The vicinity encompassing Flagstaff, Arizona, is rich in gorgeous landmarks for mountain biking, spectacular formations of rock, and fascinating historical sites. If you're going on holiday in a campervan, RV, or trailer, you'll discover a number of spots for lodging in the Flagstaff region that will accommodate you while maintaining you close to the activity.
Getting an RV rental in Flagstaff, AZ is one of the simplest and most cost-effective methods to make the most of your trip in Northern Arizona. You'll have the freedom you need to check off must-see attractions like Meteor Crater, Walnut Canyon National Monument, plus Coconino National Forest on your bucket list if you rent an RV.
While Arizona is renowned for its hot months, several of the neighborhood's RV sites will be inaccessible because of snow if you come az flagstaff during the winter months. This region's amazing natural beauty and many options for exploration make any of these 10 Flagstaff, Arizona, campgrounds well worth a visit.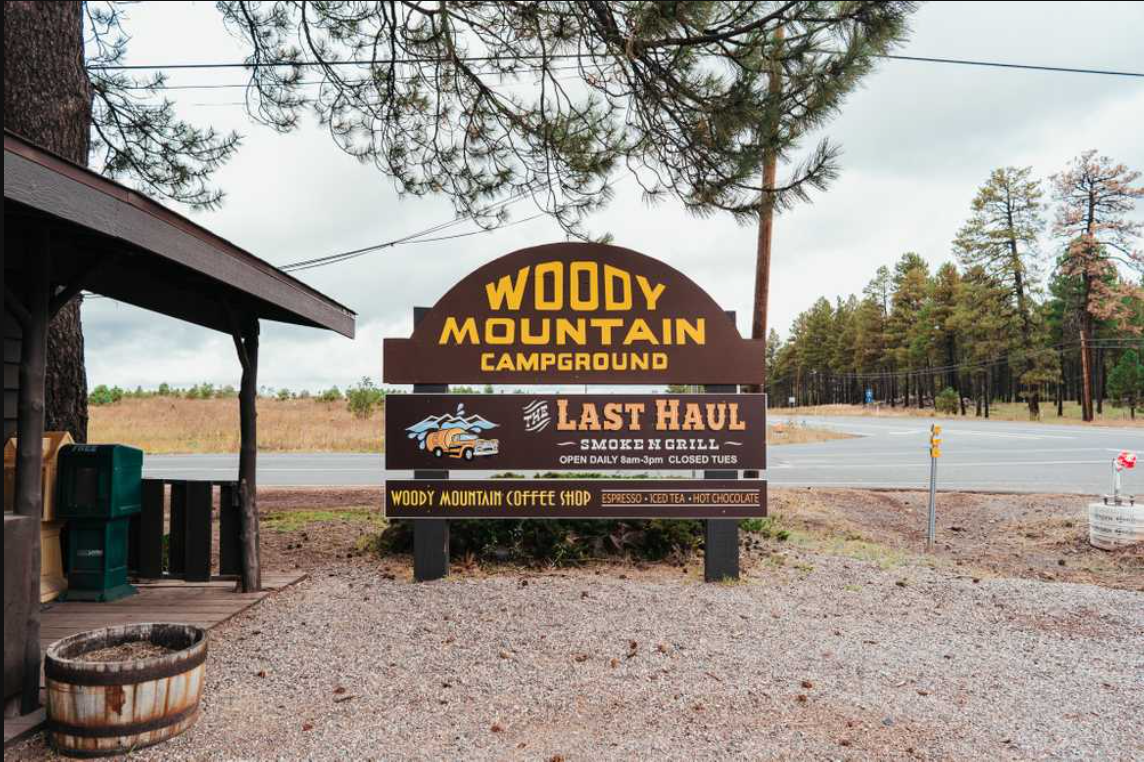 Woody Mountain RV Park & Campground
Amenities:
Alcohol Available
Bathrooms
Dog Park
Dump Station
Garbage
General Store
Horseshoes
Ice Cream
Internet Access
Laundry
Playground
Restaurant
Showers
Snack Stand
Special Events
Surrounded by a lush forest of towering pine trees, Woody Mountain RV Park & Campground offers a serene and shaded retreat, perfect for unwinding and immersing oneself in nature's tranquility. Although the campground remains closed during the winter months, eager visitors can look forward to its reopening on March 15th, weather permitting. Once the season begins, guests are welcomed to a range of convenient services right on the grounds, including full laundry facilities a general store and a delightful sandwich shop.
During the summer months, Woody Mountain RV Park & Campground truly shines as one of the most enjoyable RV sites in Flagstaff. The abundant tree cover provides a refreshing respite from the summer heat, creating a comfortable and pleasant environment for guests to relax and enjoy their stay. With essential amenities like a general store, Wi-Fi cafe, and hot baths available on-site, visitors may find themselves reluctant to venture elsewhere. However, for those eager to explore the area's attractions, downtown Flagstaff is conveniently located just a short six-minute drive away, offering a plethora of cultural, dining, and entertainment options.
Whether you're seeking solace among the towering pines or eager to embark on exciting adventures in and around Flagstaff, Woody Mountain RV Park & Campground provides the perfect setting for a memorable and rejuvenating camping experience. Embrace the beauty of the natural surroundings, indulge in modern conveniences, and immerse yourself in the diverse charm of this idyllic Flagstaff retreat.
Fort Tuthill County Park
Amenities:
Laundry Facility
Bath House
Tubing Hill
Wifi (in Lobby)
Pet Friendly Accommodations
Playground
Horse Shoes
Basketball Court
Sand Volleyball Court
Fire Pit
Pool Table
Bike Shop
Ski Shop
Retail Shop
Video Rental
Meeting & Event Facilities
If you just want a 10-minute journey outside of Flagstaff, Fort Tuthill County Park will definitely serve as an ideal hub for exploring the nearby attractions, including the awe-inspiring Meteor Crater. Renowned as one of the best RV camping destinations in Flagstaff, Arizona, this park offers a unique blend of tranquility and accessibility, providing a sense of remoteness away from the hustle and bustle while remaining within easy reach of all of Flagstaff's amenities local attractions and breathtaking landmarks.
Beyond being a premier RV park, Fort Tuthill County Park holds a rich history, featuring museums and sites that add an extra layer of intrigue to your visit, making it a worthwhile stop even if you don't plan to stay overnight. Not only does it offer a historical experience, but it also stands out as a cost-effective option for RV camping compared to other campsites in the Flagstaff area, providing excellent value for your stay.
Regardless of the time of year you choose to explore Fort Tuthill County Park, you can expect an array of intriguing events and activities to participate in. Whether you're seeking to immerse yourself in history, enjoy outdoor adventures, or simply relish the serene natural surroundings, Fort Tuthill County Park promises an unforgettable experience for visitors of all ages and interests.
Mormon Lake RV Park and Campground
Amenities:
Full hook-ups with electricity, sewer and water
Pull-through spaces
Restrooms with coin operated showers and laundry
All weather surface parking sites
Mormon Lake Pizzeria
Gas Station, Country Store and On-site Post Office
Mormon Lake Steakhouse and Saloon
Basketball, Horseshoes & Volleyball
Jungle Gym
Kid's Trout Pond
Buffalo Habitat
The pleasant Mormon Lake RV Park & Campground can be found on the tranquil shores of Mormon Lake, just south of Flagstaff. This campground has a wealth of activities to keep you amused both within the park and in the surrounding area, in addition to all of the necessary conveniences for a comfortable stay. Guests can enjoy trout fishing and the delectable choices of a full-service steakhouse as a special treat, adding a touch of luxury to their camping experience.
Compared to many other Flagstaff campgrounds, Mormon Lake RV Park & Campground stands out with its impressive range of facilities and services. Families will find it to be the perfect destination to bond and explore the surrounding natural wonders. Beyond the traditional camping experience, the campground also offers a unique opportunity to take a break from the RV life. The on-site lodge presents clean and visually stunning accommodations at a reasonable price, making it an excellent option for those looking to mix things up and experience a different style of lodging while still being close to the RV park's amenities.
Whether you're an outdoor enthusiast seeking fishing and hiking adventures or someone in search of a peaceful lakeside retreat, Mormon Lake RV Park & Campground caters to a diverse array of preferences. Bask in the beauty of the lake and its surrounding landscapes, savor the flavors of a delicious steak dinner, and create cherished memories with your loved ones as you embrace the charm and comforts of this picturesque Flagstaff campground.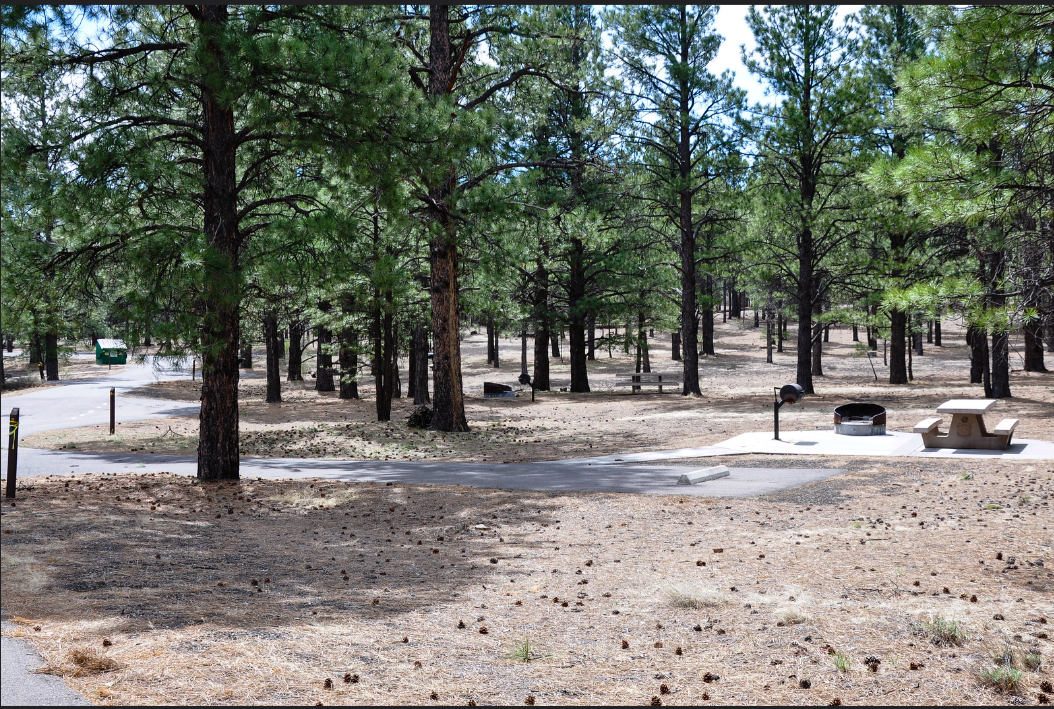 Bonito Campground
Amenities:
Daily Rates: $26/call for extended stays
Sites: 44
Pet-friendly
Bonito Campground can be found atop Sunset Crater Volcano, it takes its name from a historical lava flow that meandered through the high desert plain almost 900 years ago. This one-of-a-kind location is ideal for a family vacation, with local sites like Wupatki National Monument and Sunset Crater National Monument just waiting to be discovered. Immerse yourself in the region's rich cultural and geological attractions, many of which are easily accessible from the campsite. The gorgeous ponderosa trees that provide shade and a sense of tranquillity add to the appeal of the camping experience. The ability of Bonito Campground to create an isolated and secluded experience despite its proximity to Flagstaff is one of its most impressive features. This produces an enthralling sensation of absorption in nature's grandeur, providing a true vacation from the rush and bustle of daily life. You'll get the best of both worlds while staying at the campsite: the convenience of being close to Flagstaff's facilities and activities, as well as the experience of being surrounded by untamed wilderness.
There are a plethora of natural beauties around, so there are plenty of activities to enjoy during your stay at Bonito Campground. Visit Wupatki National Monument to see old Native American houses and archeological sites, or Sunset Crater National Monument to see volcanic remnants. Bonito Campground delivers an amazing and immersive experience for the entire family, from appreciating the rough lava fields to looking at the stars in the bright night sky. Perhaps you want to learn about history, admire geological wonders, or simply reconnect with nature, either way, Bonito Campground which is perched above Sunset Crater Volcano, is an excellent camping option. Relax among the scenic splendor, make lasting memories with your loved ones, and enjoy the sensation of being right in the heart of nature's amazing offers.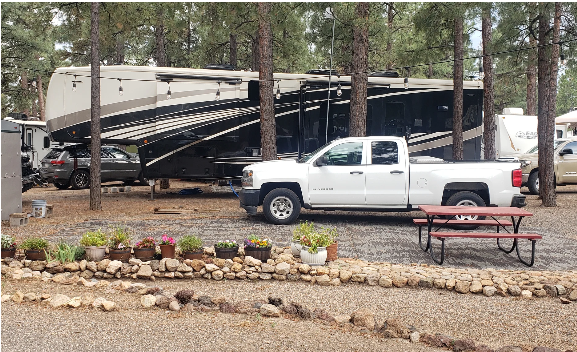 Greer's Pine Shadows RV Park
Amenities:
50 amp
30 amp
Water and sewe
Access to a laundromat
Free basic wifi
High speed wifi for a small fee
Greer's Pine Shadows RV Park, situated among the stunning scenery of Flagstaff, Arizona, has gained an image as one of the area's finest campgrounds. While it does not have as many amenities as other campgrounds, its ideal location more than makes up for it. Guests may easily access the city's dynamic attractions, including historic sites, cultural hotspots, and a variety of dining and retail experiences, by taking a quick 13-minute drive from downtown Flagstaff. Greer's Pine Shadows RV Park is ideal for families traveling with children since it provides a warm and welcoming environment so if you are one of those types of travelers, this RV park will surely benefit you. As one of the region's largest campgrounds, it offers plenty of room and opportunity for you and your family to engage with other tourists. While parents relax and enjoy the tranquil settings, their children can cheerfully explore the grounds, make new friends, and create great memories.
A world of natural treasures awaits just beyond the RV park's boundaries. Outdoor lovers and enthusiasts will be delighted by the variety of activities available, which is conveniently located near several of Arizona's geological wonders and national parks. From the majestic Grand Canyon to the mystical grandeur of Sedona's red rocks and ancient petrified forests, each place provides a one-of-a-kind experience that is ideal for family adventures and exploration. Greer's Pine Shadows RV Park offers the best of both worlds, whether you're looking for a calm escape with easy access to the city or a family-friendly environment close to nature's treasures. As you explore the wealth of Flagstaff and its awe-inspiring surrounds, embrace the grandeur of the surrounding landscapes, delight in the camaraderie of fellow tourists, and go on unique excursions.
J & H RV Park
Amenities:
Free Wireless Internet (all sites)
Laundry
Restroom / Showers
Gift Shop
30/50 Amps
Picnic Tables
Cable TV
52 Full Hook-up Sites
No freeway, railroad or airport noise!
Paperback Book Swap
Outdoor Group Fireplace
RV Supplies
Horseshoes
Mini-Store
J & H RV Park in Flagstaff, Arizona, is a serene and inviting escape for seniors aged 55 and above. Situated in picturesque landscapes, the park strikes a perfect balance between tranquility and accessibility, offering peace and quiet while being easily accessible within 20 minutes. Designed exclusively for seniors, the age-restricted policy ensures a peaceful stay and fosters camaraderie among like-minded individuals in their golden years. Guests at J & H RV Park experience a unique sense of belonging and friendship, connecting with new people, sharing life experiences, and creating lasting memories with fellow RV owners.
The park offers amenities such as spacious RV sites with full hookups, well-maintained common areas, and ample space for relaxation, leisurely strolls, and friendly games. The peaceful atmosphere age restricted park ensures that noisy neighbors won't disturb your rest or relaxation. The park also provides a peaceful atmosphere for leisurely hobbies and basking in the natural beauty of the area. For those seeking to explore Flagstaff's charm and attractions, a short 20-minute drive leads to the heart of the town, offering opportunities to explore the historic downtown area, local museums, delicious dining options, and the Coconino National Forest. J & H RV Park is an exceptional destination for retirees and seniors seeking the perfect balance of relaxation and adventure.
Kit Carson RV Park
Amenities:
Daily/Weekly/Monthly Rates: $38/$245/$780
Number of RV Sites: 150
Full Hookups: Water & Sewer
30/50 Amp
Pull-through Sites
Showers
Pets Allowed
Cell Reception
Discounts: Senior discount
Nestled in Flagstaff, Arizona, Kit Carson RV Park is an inviting oasis along Route 66. As one of the region's largest campgrounds, it offers modern amenities for RV enthusiasts and campers. Explore the highway's rich history, from quirky roadside attractions to nostalgic diners. A short drive away, Riordan Mansion State Park unveils an Arts and Crafts-style mansion, reflecting early 20th-century life.
Known for impeccable cleanliness and top-notch hospitality, Kit Carson stands out as a well-maintained RV park. Located within Flagstaff's city limits, it allows easy exploration of the vibrant downtown area on foot, where you'll find historic architecture, eclectic shops, and diverse dining experiences.
For nature lovers, the nearby Coconino National Forest boasts hiking and biking trails, with stunning views of the San Francisco Peaks and Sedona's red rocks. Whether on a road trip or planning an extended stay, Kit Carson RV Park promises a comfortable and memorable experience. Park your RV, gaze at the starlit sky, and let Flagstaff's allure captivate your adventurous spirit.
Flagstaff KOA
Amenities:
50 Max Amp
55′ Max Length
Wi-Fi
Cable TV
KampK9
RV Clubs & Rallies
Volcanic Hiking Trails
Full on-site Recycling
Nestled in the picturesque Coconino National Forest, Flagstaff KOA offers an immersive camping experience surrounded by breathtaking pine forests and scenic trails. Stargazing enthusiasts will be delighted by the remarkably clear night skies at the campsite's elevation of over 7,000 feet, with periodic stargazing events and expert-led telescope viewings.
The campsite prides itself on exceptional customer service, ensuring a memorable stay for families and travelers alike. Nearby attractions include Walnut Canyon National Monument with its ancient cliff dwellings and the Lowell Observatory, offering thrilling astronomy programs. Just a short drive away, historic downtown Flagstaff awaits, boasting vibrant arts, culture, and a diverse culinary scene. Whether you're camping in an RV, tent, or cozy cabin, Flagstaff KOA promises a warm welcome and unforgettable memories for all who visit this captivating Arizona destination.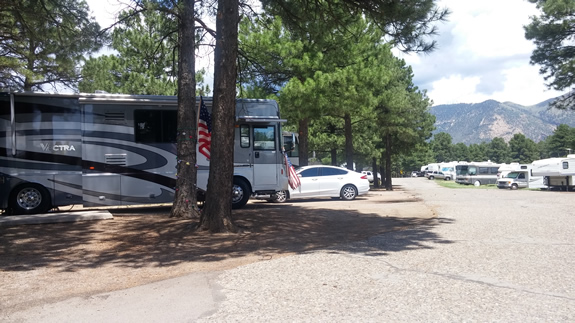 Black Bart's RV Park
Amenities:
Daily/Monthly Rates: $55/$625
Sites: 175
Full Hookups
50 Amp
Pull-through Sites
Showers
Pets Allowed
Discounts: AAA/Seniors/AARP/Military/Good Sam
Black Bart's RV Park is a haven for foodies, thanks to its popular on-site steakhouse that draws visitors from all around. The delicious menu and inviting ambiance make it the perfect spot to indulge in a mouthwatering meal after a day of outdoor adventures. Whether you're savoring a juicy steak, enjoying fresh seafood, or trying some regional specialties, the restaurant caters to all gastronomic demands.
Despite the focus on dining, the RV park doesn't fall short on convenience. Its close proximity to Flagstaff ensures easy access to town for any supplies or amenities campers may need. Exploring Flagstaff's vibrant entertainment scene, shopping districts, and essential services is a breeze from Black Bart's RV Park. So, after a satisfying feast at the restaurant, campers can venture into town and immerse themselves in all the attractions and activities that Flagstaff has to offer.
Canyon Motel & RV Park
Amenities:
Coin-op laundry
Meeting Room
Indoor heated pool spring to fall
Playground & horseshoe pit
Gas BBQ spring to fall
Picnic tables
Large flagstone woodburning fire ring.
Firewood available in their general store.
DirecTV
WiFi
Coffee maker
Microwave
Refrigerator
Smoking (cigarettes or cannabis)
The Canyon Motel & RV Park is set on 13 acres near Williams, Arizona, bordered by the Kaibab National Forest. It features 47 spacious pull-thru and back-in full hookup sites, some of which are more than 70 feet long. It also includes large tent sites that are tucked away in the jungle. It is open all year, with our busiest months being March through October.
Canyon Motel & RV Park, as the name suggests, includes a vintage 1939 motor court motel on the grounds, as well as distinctive accommodations in Cabooses and a Railcar. If relatives or close companions are traveling with you or just stopping for the day or longer and do not have an RV, they can still join you. There is so much to discover and do in and around our property. Discovering Williams is a delight in and of itself! On Historic Route 66, wild west cowboys wander the streets under the vintage neon lights. Williams has seven lakes inside its city borders. Canyon Motel & RV Park is located about one mile from Bearizona and 45 minutes from the Grand Canyon.
Conclusion
Flagstaff has a plethora of lovely RV parks, each with its own distinct charm and activities. The alternatives seem limitless, ranging from stunning lakeside settings to calm woodlands and scenic mountain vistas. The appeal of Flagstaff's RV life may urge you to stay indefinitely, and if that's the case, you'll be happy to hear that the town has a plethora of shops where you may buy your very own RV. Owning an RV allows you to explore the region's breathtaking landscapes at your leisure and live a nomadic lifestyle, pursuing experiences from one campground to the next.
While the summer months bring a large number of people to the Flagstaff area, certain campgrounds can become fairly busy, so there is no need to be concerned. There are more isolated RV parks tucked away in the outskirts, offering a pleasant refuge away from the hectic tourist hotspots, for those seeking a serene and undisturbed location. These quiet havens allow you to really immerse yourself in the region's natural beauty and solitude, where the soft rustling of leaves and the sounds of nature offer an ideal environment for relaxation.
Perhaps you're an experienced RV enthusiast or maybe you are also new to the RV lifestyle, nevertheless, Flagstaff's RV parks provide a variety of memorable experiences for you and your company. The appeal of Flagstaff's RV life is likely to leave a lasting imprint on your heart and keep you returning back for more enjoyable adventures in this enchanting region, from socializing with fellow travelers in bustling campgrounds to discovering hidden gems in distant and tranquil surroundings and also enjoying RV parks through camping or simply dropping by for hiking trails or their amenities. Either way, we hope you find the perfect getaway with the RV parks we've listed for you and have safe and happy travels!