RV camping is one of the greatest methods to take advantage of Arizona vacation.
Although Grand Canyon National Park and Saguaro National Park are the most well-known attractions in this southwestern desert state, don't miss out on the vast array of state parks, national forests, BLM land, small villages, and large metropolises in between.
Arizona is a destination for RVing since it is divided by the renowned Route 66 and has good winter weather (particularly at lower elevations). Aside from standard campgrounds, the state has a large variety of top-rated RV parks and RV resorts for people who desire a more deluxe and amenity-filled RV camping experience.
Best Arizona RV Parks
The greatest RV parks in Arizona are specifically designed to suit RV campers. They provide utility hookups (generally water/electric and sometimes sewer) as well as roomy sites for larger RVs and trailers. Some even include Wi-Fi, cable TV, laundry rooms, swimming pools, and other amenities!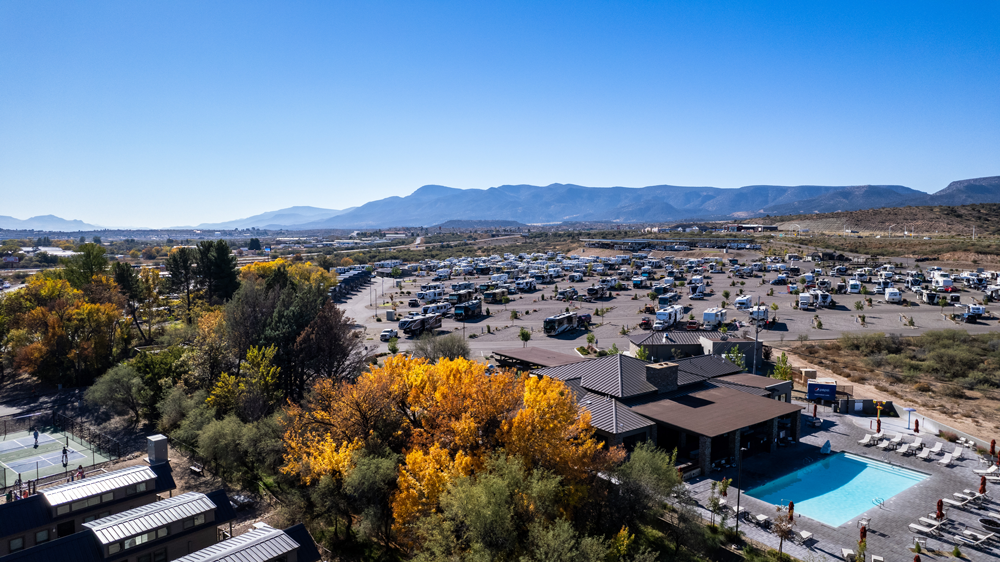 Verde Ranch RV Resort
Amenities:
Daily/Weekly/Monthly Rates: Start at $36/Start at $202/Start at $618
# of RV Sites: 399
Full Hookups
30/50 Amp
Back-In/Pull-Through
Pool/Hot Tub
Bathhouses
Pets Allowed
Laundry Facilities
Cabin Rentals
If you're looking for a luxurious setting, look no further camp verde here! Verde Ranch RV Resort was named the #6 Best RV Resort by USA TODAY and has been recognized on numerous travel platforms. Its convenient position enables for day visits to Sedona, Cottonwood, Montezuma's Castle, Flagstaff, and the Grand Canyon's southern rim.
Visitors will appreciate the numerous options to have fun while vacationing here. Relax in any of the two hot tubs, go swimming in the heated pool, or play through the Splash Pad. Play Pickleball, Bocce Ball, or Horsehoe on the Pickleball courts. The Verde Ranch RV Resort will entice you to return year after year.
The Canyons RV Resort and Cabins
Amenities:
219 RV Spaces
12 Cabins
3 bath houses
Washers and dryers
Pool
Dog park
Walk-up bistro
Coffee shop
Beer and Wine
Live music and other events at the neighboring amphitheater
Canyons RV Resort is an ideal basecamp for a weekend escape or a month-long retreat. The Canyons are situated in gorgeous northern Arizona, only a short distance from amazing outdoor activities dog parks like Antelope Canyon, Horseshoe Bend, Lake Powell, and Grand Staircase-Escalante National Monument. This is only close to Vermilion Cliffs National Monument, Monument Valley, and Arizona's biggest tourist attraction, The Grand Canyon National Park.
River Sands RV Resort
Amenities:
Best In Class WIFI
Beautiful Clubhouse
Heated Swimming Pool
Fishing on-site
24-Hour Fitness Center
Pickleball Courts
Direct access to the Colorado River
This brand-new RV community is located on the Arizona-California border, giving a peaceful nature escape while remaining only a short drive away from major destinations. This resort was designed with nature in mind, and it uses natural paving on its roads and RV sites, a sustainable choice that harnesses local natural resources!
Take part in the excitement at River Sands RV Resort, Ehrenberg, AZ's newest and largest RV resort destination, which offers families the ideal combination to have more fun: the tranquility and peace of Arizona valleys with close proximity to the Colorado River and an abundance of onsite amenities, activities, and amusement.
Gateway Ranch RV Resort
Amenities:
Free extra vehicle storage
Wide streets
Access to BLM land
Pets welcome
ATV's welcome
Furnished Park Models available for rent
Mobile RV service available
Gateway Ranch RV Resort in Salome, Arizona, is the place to go if you want to see the sunrise over the desert. This spacious campground is close to numerous activities and has a store within easy walking distance. While in Salome, you are able to relish the parks, the lake, and the good experiences you'll have while touring the town. Nonetheless, you're rarely too far from the main metropolis, with Phoenix only a short drive away.
The wildlife in the area around the resort adds to natural beauty of the already stunning environment at the RV park. There's also an on-site golf course and adjacent abandoned settlements where you can search for fascinating treasures. All water activities, such as fishing, swimming, and boating, are available at Lake Havasu. Of course, the campground provides full hookups as well as facilities such as ATV parking, laundry rooms, a clubhouse, and showers.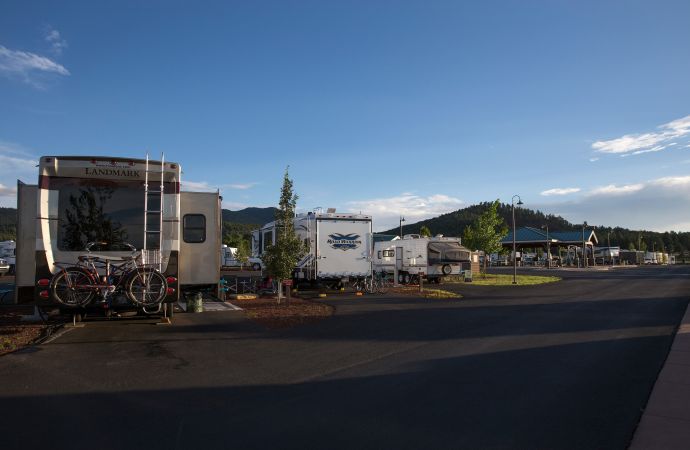 Grand Canyon Railway RV Park
Amenities:
Ultra-clean and maintained with pride
124 extra-wide spaces, 30 and 50 amp
Water and sewer hook ups
Pull-throughs & buddy spaces
HDTV from DirecTV*
Free wireless Internet access
Laundry facilities
Showers
Convenience store
Pet Resort
Basketball and volleyball courts, horseshoes
Fitness Trail
Just 2 blocks from Route 66
Only all-paved park in region
Open all year
The Grand Canyon Railway RV Park is a one-of-a-kind resort in Williams, near to the Grand Canyon Railway Hotel. This Arizo campground is just two blocks from Route 66, close to downtown Williams, and, of obviously, close to the Grand Canyon.
The railway is one of the features that distinguish this RV park; you may take a historic railway from Williams to the Grand Canyon Tiol Park, reducing the stress of traveling your rig along the Grand Canyon roads. While you're out visiting the Grand Canyon or other nearby attractions, you can be assured that your pets are receiving the best possible care at the pet resort. The park itself is intended to provide visitors with the most comfortable and peaceful experience possible. Each RV site includes a high-definition digital television, and wifi, as well as entry to the hotel's indoor pool, hot tub, as well as shower facilities.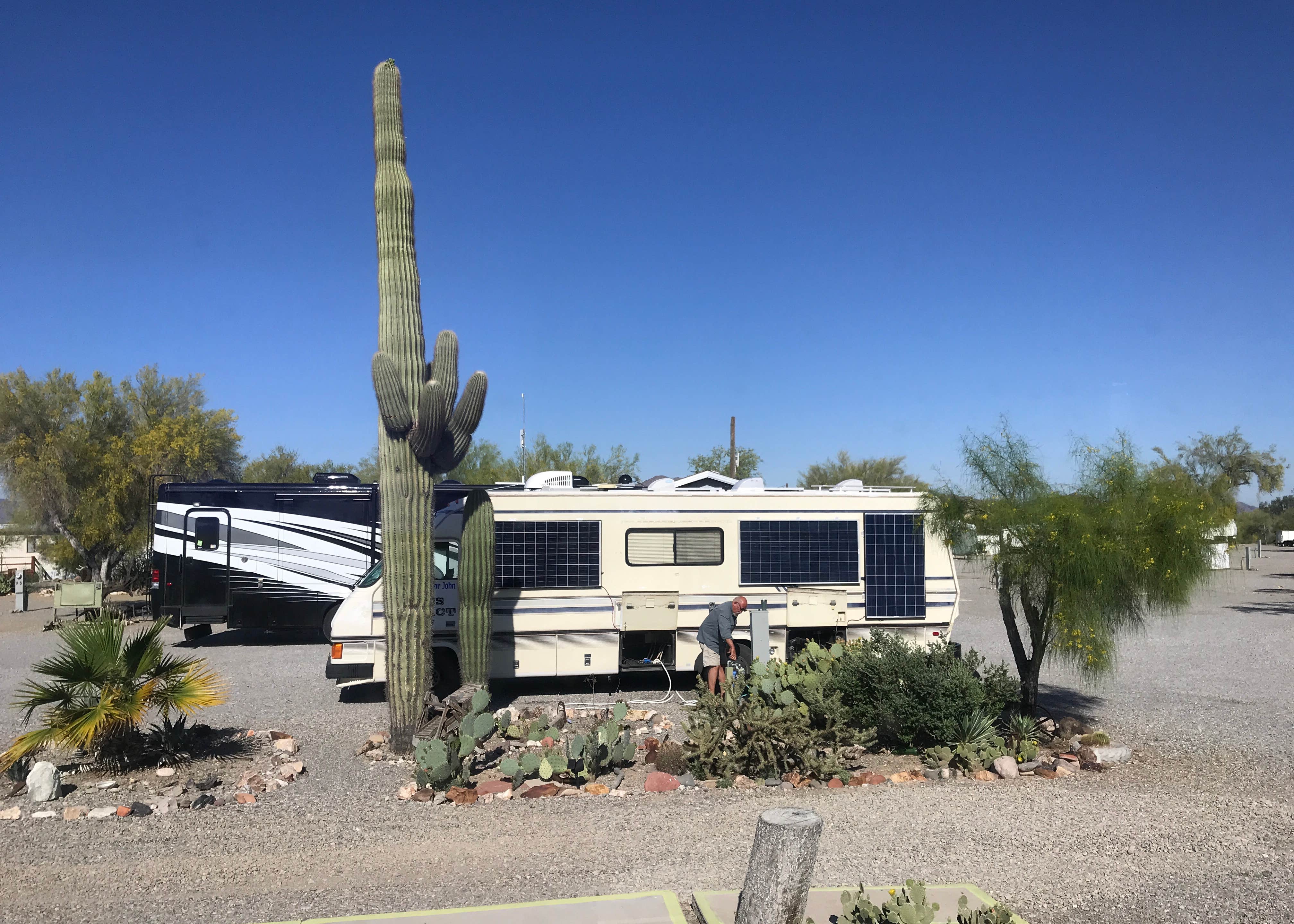 The Scenic Road RV Park
Amenities:
Shower
Toilet
Laundry Facilities
Water Hookups
50 Amps
20 Amps
30 Amps
The Scenic Road RV Park is located 20 miles east of the Colorado River, which separates Arizona and California. This park, situated in Quartzsite, offers 97 full hookup RV campsites in a historically significant section of the country. Visitors can tour Quartzsite or enjoy the many points of interest, such as the Kofa National Wildlife Refuge along with the Castle Dome Mines Museum, and Ghost Town.
The Scenic Road RV Park offers organized excursions that take you to Quartzsite and to places like the Yuma Jail, ghost villages, and active mining operations. With 38 pull-through sites, large rigs have easy access to the park. Every campsite is 60 feet long and 30 feet wide, providing plenty of space for any slide-outs that RVs may have. Campers have access to Wi-Fi, a recreation hall, and nature walks.
Superstition Sunrise RV Resort
Amenities:
Showers
Pets Allowed
Cell Reception
Wi-Fi
Discounts: Good Sam Club
This park, located just off Highway 60 near Apache Junction, serves as more of an accommodation than a campground. You're sure to have a great trip with a recreation complex that reaches over 45,000 feet and plenty of surrounding retail plazas, eating establishments, casinos, and national parks!
A music room, arts and crafts workshops, dinner shows, indoor and outdoor pools and spas, a variety of sports, Sunday worship services, a library, an exercise center, and scheduled tours are just the beginning of what this huge park has to offer! The weekly and monthly rates are a value with so much to choose from and being one of the highly rated Arizona RV parks. It's no surprise that Superstition Sunrise is one of Arizona's best long-term RV parks!
Eagle View RV Resort at Fort McDowell
Amenities:
Full Hookups
Showers
Pets Allowed
Cell Reception
Wi-Fi
Eagle View RV Resort, located on Scottsdale's eastern outskirts, is rich in Arizona culture's heritage and customs. The Fort McDowell area has a lot to offer visitors, from the varied activities to the stunning scenery. Eagle View RV Resort, one of the top-rated Good Sam-associated RV parks in Arizona, provides an enjoyable getaway to every guest, regardless of whether they remain for a night or a season!
When you stay at Eagle View RV Resort in Fort McDowell, you can ride horses through the beautiful scenery, cool down in the pool, get a hole-in-one at the We-Ko-Pa Golf Club, or try your luck at the Fort McDowell Casino; and that's just the beginning! Each RV site has full water and power hookups, as well as a garbage disposal, free Wi-Fi, and, of course, a beautiful view. A pet park, a laundry room, a fitness center, and clean baths are all available at the resort.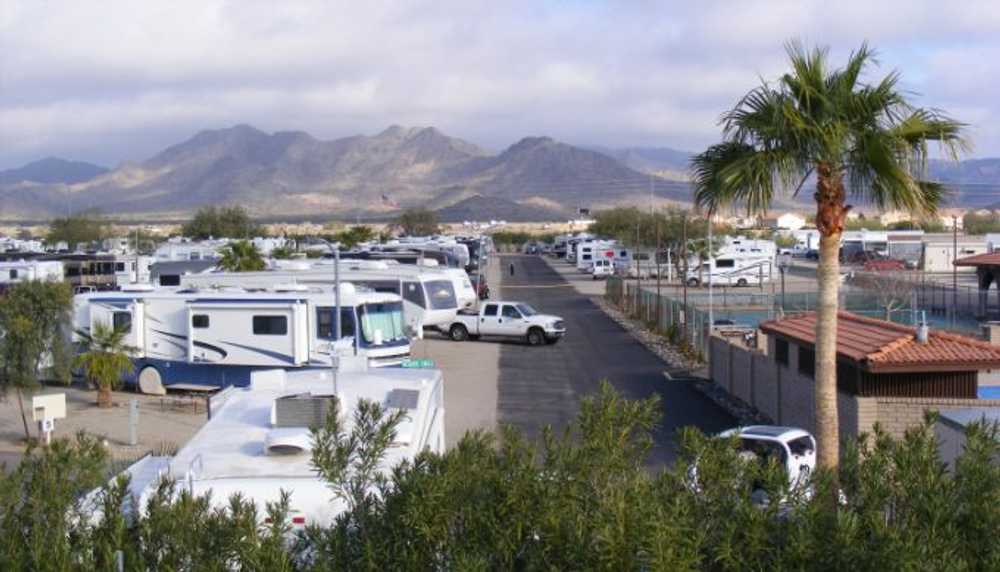 Leaf Verde RV Resort
Amenities:
Daily/Weekly/Monthly Rates: from $34/$205/$425
# of RV Sites: 377
Full Hookups
30/50 Amp
Back-In/Pull-Through Sites
Pool
Showers
Pets Allowed
Cell Reception
Wi-Fi
Discounts: Military
For almost 30 years, this family-owned RV park has served the Phoenix area. It's one of the greatest campgrounds in the area, having won a number of various honors for guest satisfaction. The peaceful Arizo desert scenery around the campgrounds provides the ideal location for campers to unwind and enjoy the spectacular sunsets every night of their journey.
Because Phoenix is so nearby to the campground, travelers can enjoy a variety of activities and attractions. There's enough for everyone at the Phoenix International Raceway, the Challenger Space Center, and the Wildlife World Zoo. Inside the resort, there is a shuffleboard court as well as a horseshoe pit, a heated pool, a BBQ and a picnic location, plus a club room featuring a pool table, television, and card tables to keep guests busy.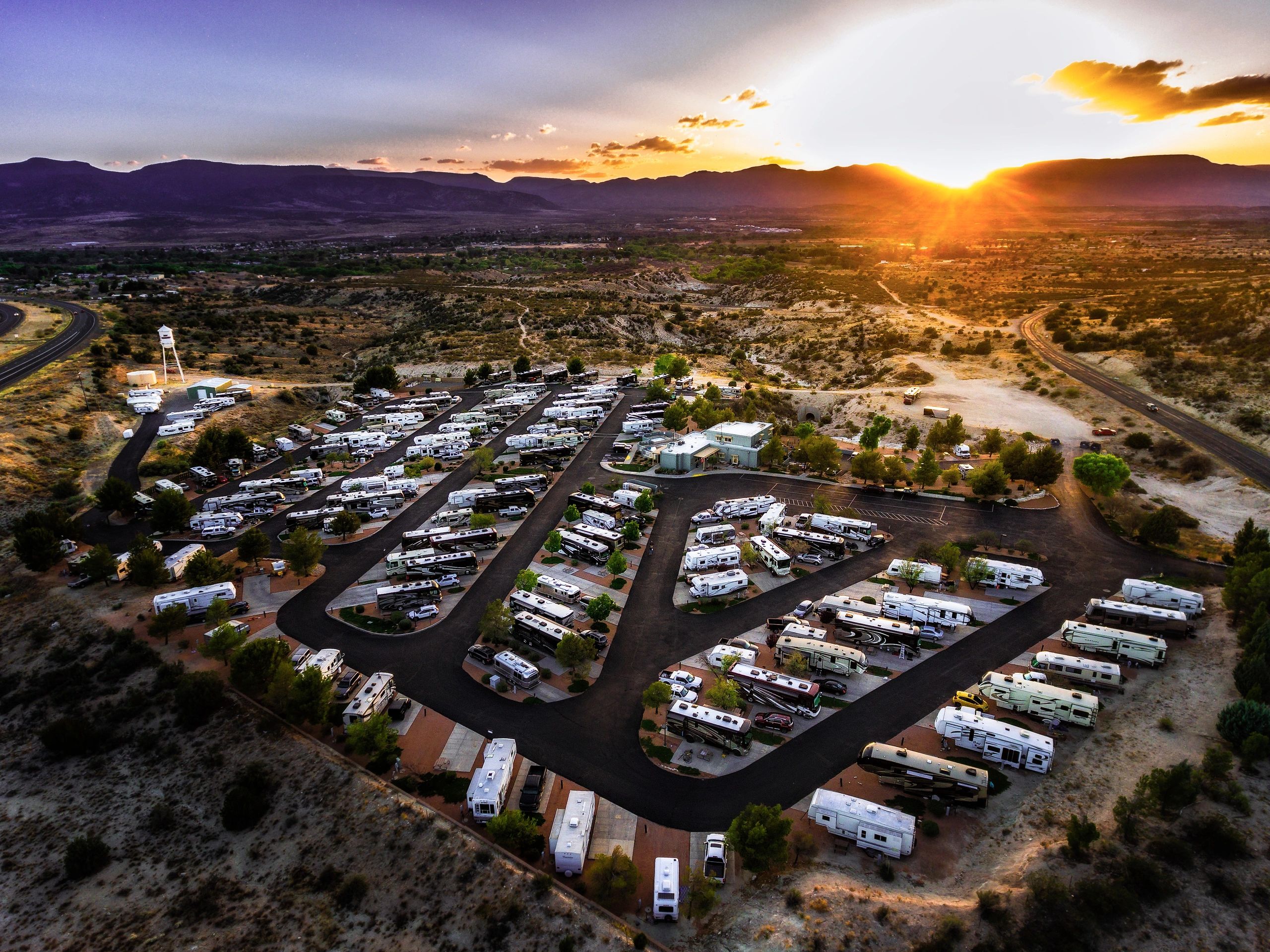 Distant Drums RV Resort
Amenities:
Full Hookups
30/50 Amp
Back-In/Pull-Through Sites
Pool/Hot tub
Showers
Pets Allowed
Cell Reception:
Wi-Fi
The campgrounds at Distant Drums are suitable for any kind of RV and have a variety of amenities to assure guests' enjoyment. This is also a very good option for an Arizona RV park if ever you are looking for more option. Level, paved sites, immaculate showers, a fitness center, a heated pool and spa, cable television, and wifi are all assured in order to render your stay enjoyable and worry-free. There are lots to do in the region around it as well, from visiting extensive pine forests and the spectacular red rocks of Sedona in the Coconino National Forest to trying your hand at gambling at the Cliff Castle Casino Hotel.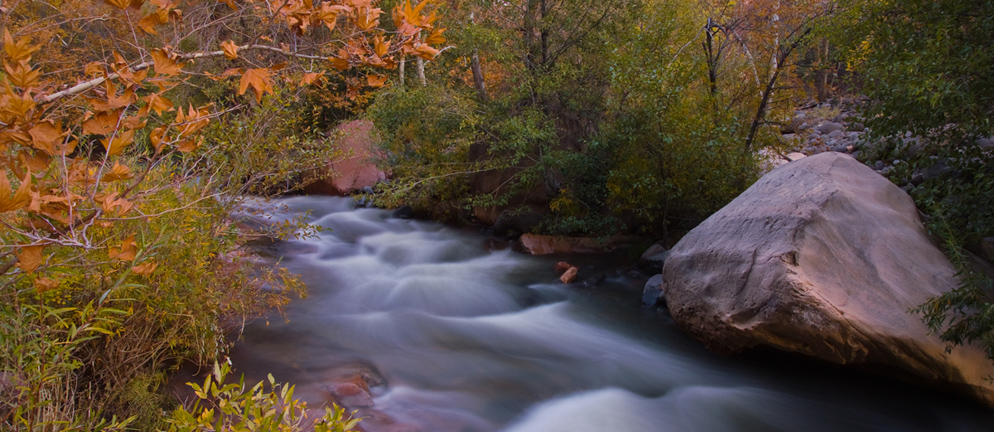 Rancho Sedona RV Park
Amenities:
Rigs up to 45 feet
View each individual site
Check-in at 12 Noon or later. Check-out no later than 11 AM
Dog Friendly
Walk to restaurants and shopping is only ¼ mile walk
Hiking trails ½ mile walk from the park
Showers
Cell Reception
This park, nestled amid the Sycamore and Cottonwood trees of Sedona, Arizona, is ideal for a peaceful, relaxing visit or even for RV camping. The park is well-kept and has excellent customer service, making it certainly among the biggest and most popular RV parks in Arizona, with several positive ratings. Another advantage that makes this campground even more handy is its proximity to some of Arizona's greatest RV retailers.
A stay at Rancho Sedona allows you to get away from the rush and bustle of the city. Year-round activities include mountain biking, hiking, fishing, and sightseeing. Most campgrounds provide full hookups, wi-fi, cement patios, and cable television. It truly is the ideal combination of natural tranquillity and technological conveniences!
Vista Del Sol
Amenities:
Swimming Pool and Hot Tub
Pickleball Courts
Fitness Center
Billiards
Card Games
On-site Post Office & Mailboxes
Laundry Facility
Pet Parks
Gated Community
Clubhouse
BBQ Ramada.
Vista Del Sol RV Resort in Bullhead City, Arizona welcomes 55+ Active Adults with a range of RVs, including Class A or Class C, motor homes, travel trailers, and fifth wheels. The grounds' unparalleled panoramic splendor serves as the ideal backdrop for relaxation and a variety of outdoor recreational pursuits.
With so many great on-site activities, you'll never become bored, but if you're looking to find additional off-site fun, Mohave County has 190 square miles of water, Laughlin's casinos, hiking and ATV trails, and retail shopping. If that isn't sufficient, Las Vegas is only 94 miles away!
Meteor Crater RV Park
Amenities:
Daily/Weekly/Monthly Rates: from $32/none/none
# of RV Sites: 71
Full Hookups
30/50 Amp
Back-In/Pull-Through Sites
Showers
Pets Allowed
Cell Reception
Discounts: FMCA
Good Sam Club
AAA
Northern Arizona is dedicated to the world's greatest-preserved meteorite impact site, as well as one of the nicest campgrounds two dog parks in the entire nation is right close to it. People gather from all around to see the mile-wide crater formed by a 50,000-year-old collision with an asteroid traveling at 26,000 miles per hour! Meteor Crater RV Park is the finest place to stay to see the site and the many other points of interest in the area.
This park is the greatest site for viewing both day and night–hike along the trails beside historic Route 66 throughout the day, and then pull up chairs on the lawn at night to enjoy the gorgeous sunsets and stargazing–you could possibly catch a few falling stars! And naturally, you'll be able to see the Meteor crater; in fact, all campers receive a ticket discount!
Zane Grey RV Village
Amenities:
Propane
Free WiFi
Laundry
Picnic Tables
RV Supplies
Rest Rooms
Showers
An Equipped Pavilion
Hiking Trails
Birding
Corn Bag Toss
Nearby Golf
Local Historic Attractions
Nearby Gaming
Zane Grey RV Village is one of the best RV camping locations in Arizona, tucked in Verde Valley and bordered by Sedona's mountains. The park's 3,147-foot elevation provides fantastic weather all year, giving it the ideal site to see Arizona's red rock region while also enjoying lush flora. Visitors may enjoy the gorgeous nature while remaining close enough to major stores, restaurants, and attractions.
Zane Grey is approximately 27 miles from Sedona, making it a short commute to attractions for people of all ages. History aficionados will enjoy the Fort Verde State Historic Park, adventurers, and outdoorsmen will appreciate the Red Rock State Park, and parents may keep their children busy all day at the Out of Africa Wildlife Park. When you return to the campsite, clean up in the well-kept showers and laundry facility before returning to your RV site to unwind and enjoy the complimentary Wi-Fi. This campground will undoubtedly go down as one of your top RV excursions in Arizona.
Desert Trails RV Park
Amenities:
30-amp or 50-amp RV Sites
Over 225 full hook-ups
Free Wi-Fi in selected areas
City water
Full water, sewer, and electric hookups
Picnic tables at sites
On-site LP gas delivery allowed
Heated Pool
TV Lounge with two rooms
Recreation Hall
3-room library with reading patio
Pool hall
Billiard tables
Dartboards
Poker tables
Ping pong
This Tucson park gives visitors a full Arizona desert experience, with huge sandy and rocky landscapes, cacti, and, of course, spectacular desert sunsets. A lot of tourists opt for lodging at Desert Trails because of the complete calm that campers find here–there are no deafening trains, planes, or motorways!
Although the park has the feeling of peace and tranquility of being sealed off from the hustle and bustle of the world, campers may still enjoy the latest conveniences found in any five-star resort or hotel. There is free Wi-Fi so you are able to remain connected to one another, heated swimming pools for guests to enjoy, and lots of activities that will maintain you occupied and amused, from bingo to art lessons.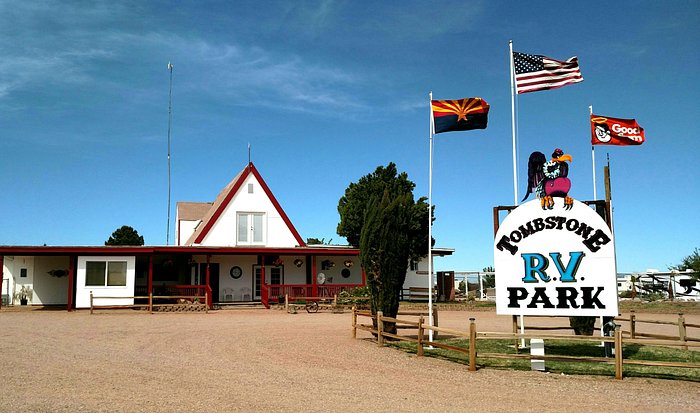 Tombstone RV Park & Campground
Amenities:
Large level pull thru sites
Camping cabins and Cowboy suites
Tent sites and Playground
Extra clean restrooms and hot showers
Picnic tables and grills
Laundry facilities and Pool
Campfire rings
Family friendly atmosphere
Complete area information
Ice, Propane and Wifi
We'll add one last option for RV campgrounds and RV parks in Arizona. Tombstone, Arizona is famed for its Wild West past, and the Tombstone RV Park is the ideal site to learn about it. The park is located one mile from the historic center and provides modern conveniences as well as camping cabins as well as cowboy suites.
Campers can enjoy a variety of amenities that will make their stay at Tombstone RV Park unique. The basics include hot showers, clean restrooms, washing machines, and complimentary Wi-Fi. In addition, campers can take a shuttle to historic Tombstone and spend the day studying the Wild West.
Conclusion
That's it for the top RV trailer park camping locations in Arizona! There's nothing to go wrong if you choose to go camping or relax in an Arizona RV park. A trip to the Grand Canyon state is sure to be exciting and adventurous, and any of these excellent sites would make an excellent home base. We know that you are searching for the best one that has all the amenities you would need. Well, we have provided you quite plenty of options. All you've got to do now is choose your favorite park, organize your vacation, and experience the Grand Canyon State's fascinating past and scenic beauty! We're sure that you will be able to find the best one you are looking for and if ever you want to visit another place in Arizona, surely that place also has a great RV park, some of them are pet-friendly RV resort so it's really enjoyable not just for your family but also for you fur babies.