When you think about van life, you typically picture fancy-looking constructions in large, costly cars such as Sprinter vans, Ford Transits, or Ram Promasters.
In a basic minivan, anyone may practice #vanlife just as easily. Because they are less spectacular, minivans are sometimes disregarded as a platform for camper van modifications. They're more compact. They do not have as much inner area as others.
However, minivan conversions have numerous advantages for full-time road living. They are far less expensive and easier to access than larger vans. They're greater fuel-efficient, simpler to drive, and can be repaired by almost any mechanic. They're also not as little as you may believe. For instance, a Toyota Sienna is substantially bigger than the perennial van life drool machine VW Vanagon.
When it comes to minivan camper adaptations, there are numerous makes as well as models to select from. However, if you're thinking about converting a Dodge Grand Caravan to live the van life. You've heard good things about that as well, and it has a long production history. It appears to be the ideal stealthy, maneuverable car for road excursions.
In this article, we'll discuss the benefits and drawbacks of converting a Dodge Grand Caravan camper, as well as the improved conversion kits and DIY solutions we could discover. We've compiled a list of inventive Dodge Caravan camper conversions as well as other minivan camper conversions that will get your wheels rolling.
Why Is the Dodge Grand Caravan a Good Camper?
Dodge Grand Caravan camper conversions are fantastic for a variety of reasons. If you want to learn a few more things about this certain brand and model then here are a few examples:
The back seats fully fold down, allowing you to add a bed without having to remove them.
The large hatchback door provides full interior access for the conversion.
From the outside, it appears like any other minivan, making it ideal for stealth camping.
When unoccupied, it can hold up to 7 people.
Because it is so popular, it is simple to maintain and locate replacement parts for.
Because the inside is long, there is ample room for a bed.
It has a high resale value.
We should also address the disadvantages if you are thinking about getting your own Dodge Caravan Camper so that you are aware of what you may experience.
The Dodge is incredibly popular, which implies it is frequently in great demand. As a result, finding a recent one for sale can be difficult.
Lastly, there are some complaints about the fuel economy.
Fantastic Dodge Grand Caravan Conversion Kits
Prepared to be motivated? Let's start with some expert conversion kits. These are ideal for anyone looking to purchase long-lasting and sturdy furniture without having to worry about whether or not it will stay in place.
There's no need to make anything out of ply. Simply place the kit in the minivan and screw several pieces together. The assembly is quick and simple, and you may remove the kit whenever you want.
But be warned: you may have to join a waiting list to purchase one. The units are often made to order. The greatest Dodge Grand Caravan conversion kits we could locate in the industry are listed below.
Oasis Campervans' Classic Dodge Grand Caravan Conversion Kit
$11,300
Oasis Campervans' conversion kit is modern, clean, and functional. It includes a full kitchen that you put at the back. A sink, countertop, fold-out table, plus drawer are included.
A bedroom converts into a living room on the inside. The bed platform houses a memory foam mattress that folds away during the day.
The platform transforms into a worktable thanks to an articulating leg. There are 5 storage compartments beneath the furniture. Custom-made curtains are also included in the pricing. You can select from maple, cherry, or walnut cabinets.
You could also add a table, a stove, a fridge-freezer, solar panels, as well as other accessories to the package.
Freeway Camper Kit's Sleeping Conversion Kit
$5,699.99
If you don't need a very lengthy bed and want to make the most of the available space inside the minivan, the Sleeping Giant kit is suitable for a Dodge Grand Caravan camper. The furniture appears to be current and clean.
A kitchen with a decent-sized sink and a large cooler is located in the back. Fold-out tables provide a platform for cooking and chopping.
They are accompanied by storage shelves where you may keep your kitchenware. This piece also lifts on the contrary direction, right above the bed, to reveal a shelf where you may place your laptop to watch a film at night.
Within, the platform bed converts into a dinette, with half of it serving as storage.
These units have adequate space to house a toilet. You may even fix it permanently and utilize it inside the van because there is enough room for your legs. A 37L cooler, a foam mattress, grey and freshwater reservoirs, and other features are included in the price.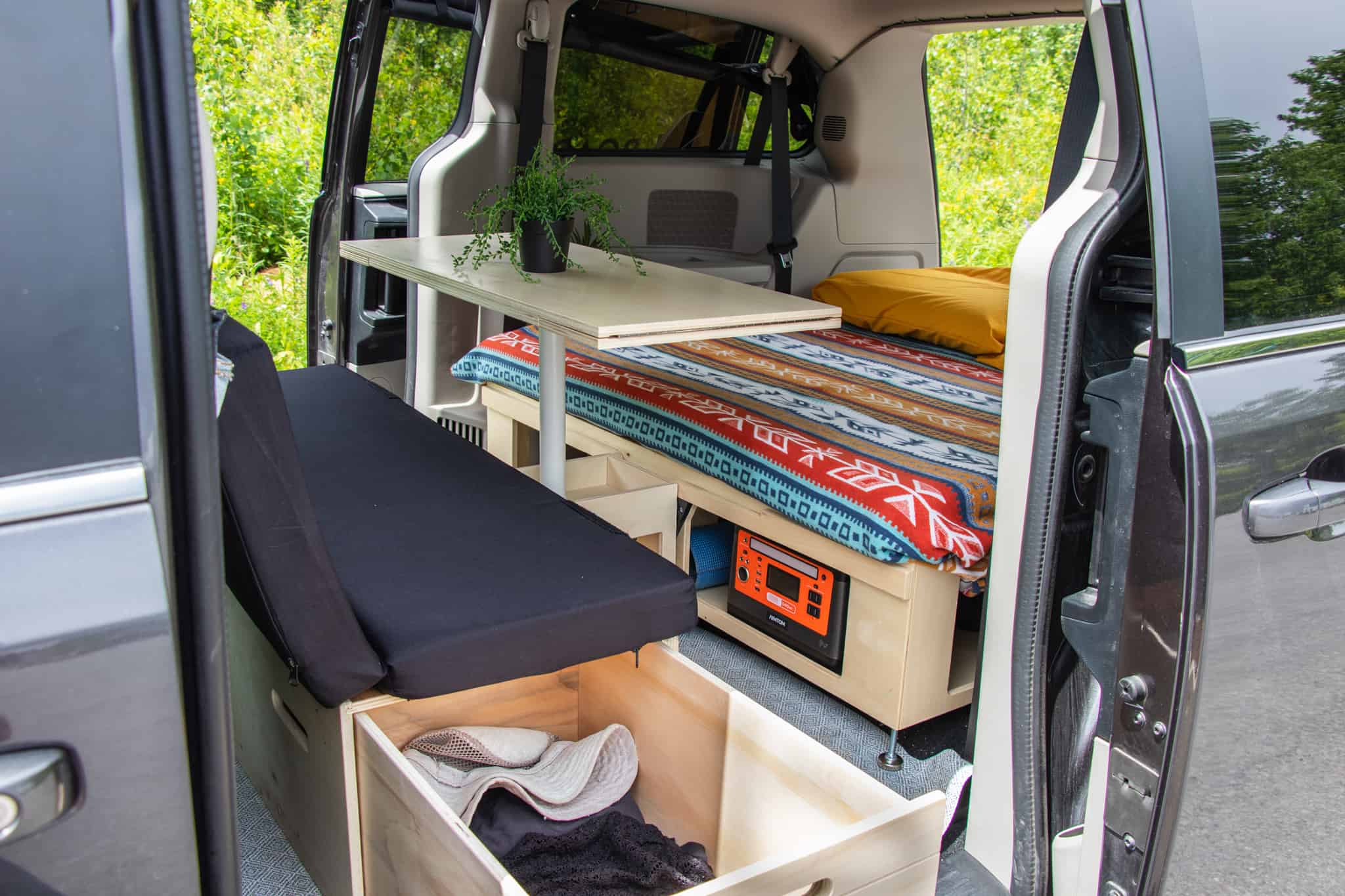 Roadloft's Minivan Dodge Grand Caravan Conversion Kit
$4,490 CAD
The Roadloft Dodge Grand Caravan modification kit is ideal for tall people.
It gets the most of the available internal space by utilizing it entirely for the bed platform. The kitchen is concealed beneath it and slides out the back of the vehicle. This also allows for extra sitting room inside.
The entire kit is built in modules, making it very simple to install and remove.
A retractable sink and an attached cutting board are included in the kitchen. When the back seats are removed, there is room for a cooler as well as storage under the sink.
You can have the kit shipped to your home completely constructed, or you can purchase it at the Quebec City production site. It merely takes a few minutes and a flat screwdriver to install.
Le Baroudeur Minivan Conversion Kit
$3,945 CAD
Le Baroudeur is another fantastic choice for shipment from Canada.
This low-cost Dodge Grand Caravan camper conversion kit has all of the amenities seen in pricier models.
The kitchen is located at the back of the van and includes a basic sink, counter space, a double burner (which is included in the price), and a cooler.
The platform bed, which can be utilized as a single or double, transforms into a dinette on the inside. There is a lot of storage capacity beneath the benches.
You can customize your purchase by adding a refrigerator (up to 40L) and curtains. The process often takes less than five minutes and requires no drilling.
DIY Dodge Grand Caravan Camper Conversions
If you want to save even more money on your transformation, you could do it yourself. This enables you to install only what you truly require and update the camper as you see fit.
If you want to maintain the minivan as your primary vehicle and drive it throughout the week, you can simply remove the seats and store conventional camping gear inside without adding anything. There are no actual skills required.
If you desire to go all out with the modification, you can customize every cupboard and shelf to your specifications in order to make the camper your permanent home on the road.
My Backpacker Life's DIY Conversion
Amanda, a Swedish traveler, and her boyfriend wound up in Canada in 2019. They chose to try out the van life rather than their typical backpacking setup.
They purchased a Dodge Grand Caravan and altered it themselves. They stayed in it for three months, discovering many remote regions that would have been inaccessible by public transportation.
The pair went all out, removing the chairs to construct a laminate floor. They built a sleeping platform on top of it. During the day, the bed transforms into a couch. The guys built bookcases next to the bed.
They suspended a piece of laminate from the ceiling instead of making a table. This enabled them to store it at night.
Behind the rear chairs, in front of the side sliding door, is just the kitchen. Outside of the van, it has a sink and a fold-out table on which you can cook. Lastly, a cooler was added between the front seats.
This Dodge Grand Caravan camper conversion cost $1,000 CAD in total, along with all kitchenware and accessories. They paid only $3,000 CAD for the van, without insurance. When their VISA expired, they sold it for $5,000 CAD.
Amanda's No-build Conversion
Amanda, who resides in an apartment building and does not have a garage, converted her Dodge Grand Caravan camper using only hand tools.
She just purchased ordinary camping equipment, magnetic curtains, hanging storage, little pieces of furniture, and an abundance of bungee cords.
A cooler and hanging storage are located behind the passenger seat. A single bed, a bedside table, and an AC unit are nearby. A camping cot with a foam mattress on top serves as the bed. Amanda keeps her clothes beneath it.
Her dog sleeps in his bed next to her. There's a cooler underneath it that Amanda utilizes to keep her dry food.
She maintains a bucket with a lid in the rear of her Dodge Grand Caravan camper, which she employs as a toilet and garbage can. She also keeps her mosquito net and camping gear here. Adjacent to these is a shelf unit where she keeps her cookware.
She maintains a bucket with a lid in the rear of her Dodge Grand Caravan camper, which she employs as a toilet and garbage can. She also keeps her mosquito net and camping gear here. Adjacent to these is a shelf unit where she keeps her cookware.
What's Up On Earth's Dodge Grand Caravan Camper Custom Build
Elian has been traveling as a cinematographer and photographer for 5 years, 3 of which he has spent living in his custom-built Dodge Grand Caravan camper.
The majority of his van is constructed of wood, such as the numerous shelves and cabinets. Throughout the day, the platform bed folds into three sections and transforms into a sofa.
There are storage cupboards in the back where he keeps all of his utensils and prepares his food. When Elian wants the bed, he removes these modules and places them inside the van so that it can fold down on top of them.
With a moveable rear kitchen and a full-length bed, this arrangement makes the best use of the available space. There's a roof box on the roof where he keeps larger items like a longboard, camping chairs, and other supplies.
Elian also left one passenger seat at the back, which folds entirely flat and disappears beneath the floor. This enables him to transport two passengers.
Jo Ann's No-Build Modular Dodge Grand Caravan Camper Conversion
Jo Ann's fashioned a no-build cheap Dodge Grand Caravan camper out of pre-made furnishings and other odds and ends she discovered along the way.
Internally, she put together a single bed out of industrial shelves. She placed a yoga mat as well as a foam mattress on top, and she uses the shelf to store her clothes, food, and supplies.
A seat with storage below is located close to the bed. Jo Ann keeps a reclined cushion by the side of the bed, which she may use as a chair or lounger anyplace.
She also added a bedside table to the van, which she uses to store a lot of her goods. The cooler is in the back seat. Jo Ann purchased everything she needed for her Dodge Grand Caravan camper at Home Depot, Walmart, or Amazon.
Nick's DIY Dodge Grand Caravan Camper Conversion
Engineer Nick modified his Dodge Grand Caravan into a camper to tour throughout America with his partner. The bed is a collapsible platform that converts into a sofa with plenty of storage beneath.
A kitchen area featuring counter space, a slide-out table, drawers, and a sink is right next to it. The bed is the same size as a regular double bed.
The bed rises up at the back to reveal a large storage room. Nick puts all of his adventurous stuff in there.
Kit DIY Dodge Grand Caravan Camper Conversion
Kit travels from around United States in her Dodge Grand Caravan camper with her dog. Pippa the greyhound travels with her own bed in the front seat. There are a couple storage bins beside her, between both the seats.
Kit put the bed sideways in the rear. She could lie across the width of the van because she is just 5ft2 tall. She also makes use of the bed as a couch.
There's some shelving adjacent to it where she stores her toiletries and diaries. Kit also placed her power controls, plugs, and ports here.
A tiny refrigerator is located in the van's center. A large slide-out kitchen and extra storage are located in the back. It appears to be spacious and substantial.
Kit keeps her camping table and chair close to the kitchen when she's on the road. When this equipment is outside the van, an additional person can rest here on the floor, on the extra cushion Kit utilizes to rest her back whenever the bed is a sofa.
Bonus: Minivan Camper Conversions
For sure, there are a lot of you who would want to see other minivan campers as well besides Dodge Caravan Campers. Well, you don't need to look for more because we have included some examples and ideas of minivan campers here as well. Here are some great ideas for a minivan camper conversions!
Toyota Sienna camper conversion: By Josh
Josh spent only $300 to outfit his 2012 Toyota Sienna. He made no changes to the van itself – no screws, no carpet extraction. He dismantled the back seats but left the other parts of the vehicle intact for a quick minivan transformation.
Josh combined the fold-away seat storage from the Toyota Sienna minivan into a bed frame with ample space under there. He chopped the mattress cushions into parts, and the bed frame includes a wide-hinged flap that lifts to expose the storage. We consider this to be an excellent approach because it addresses one of the most significant drawbacks of a minivan camper: a limitation of storage space. The bed can also be used as a bench seat.
Josh made window covers out of Reflectix plus black fabric solely on a single side to make his minivan camper adaptation cool and quiet. On the driver's side, he created a shelf unit that serves as his daily storage and is available from both within the van and from the side door.
He has a table that hooks onto the storage unit in the sitting room and the back of the motorhome, allowing him to work, eat, and relax both inside and outside.
Josh's van life has enabled him to detach materialism from pleasure. If he had to make this voyage over again, he would carry half as much as he did the first time.
Honda Odyssey Minivan Conversion + Side Roo: By @jay.moyes
Jay turned a 2003 Honda Odyssey into a comprehensive minivan camper.
The awning or the deluxe room pair with screens, which expands the living space significantly, is one of the distinctive features of this minivan camper modification.
Many aspects of Jay's design, like as the table he employs to carry his stove and kitchen stuff, can be folded up and simply placed within the camper van or the rooftop container.
He has a mobile power station that is recharged by a 50-watt solar panel and powers his outdoor lights, which he hung around the awning to create a nice atmosphere. His fridge, fan, heater, and inside outlets are all powered by a 100-watt solar panel on the roof.
Jay's minivan camper modification has a simple water distributor with a pumping jug for water. To divide the vehicle from the living area, a stealth curtain is hung along a bungee cord. Along both ends of the inside, there are built-in cupboards with cubbies for storage. Jay developed secret storage chambers beneath the van's floor for items that necessitated extra security.
Jay chose a tri-fold mattress over a permanent sleeping platform to increase internal space. For added comfort, he has an extra mattress pad that sits on top. He stacks comforters and bedding to create a comfortable sleeping environment that folds up throughout the day.
Conclusion
You'll notice that there are a lot of folks out there touring in Dodge Grand Caravan campers. If you found yourself here in this article, then maybe you're considering getting one as well and planning to learn more about these campers before you get your own.
This campervan is ideal for travelers who wish to spend significantly long holidays or even just weekends far from home. This is perfect as well for the lone travelers who don't want to cost a fortune. There are alternatives for different budgets and talents, including purchasing a conversion kit, attempting a DIY custom build, or outfitting a no-build rig. If you do go, this agile minivan will keep you safe on the road.