The Cricket is a lightweight and robust vehicle with a clever design and function that can be towed by numerous four-cylinder engines. TAXA's NASA-inspired design has sleeping space for two adults and two children, as well as integrated plumbing and electrical systems to prepare you for adventure wherever the journey takes you.
Introducing the NASA-inspired Cricket Trailer
The Cricket, the ultimate adventure camper from TAXA Outdoors, has just been released. The newly renovated and refurbished ultra-lightweight (it weighs roughly 1,800 lbs) camper spans 15 feet in length and has enough space to comfortably sleep two adults and two children in comfortable comfort. It now has a pop-up roof, which increases the amount of space available inside and allows for standing room. I
t also has two queen-sized beds for two adults, which can be turned into a sofa with a table, as well as two adult-sized bunk beds on the second floor above the living area. Other features include an integrated plumbing and electrical system, a fully-equipped kitchen, lots of storage space, and a selection of high-end accessories from which to pick.
The Taxa Cricket is a one-of-a-kind pop-up camper that stands out from the crowd. This is more of a hard-sided camper than a pop-up camper, to be honest. Due to the design's NASA-inspired aesthetic, it's immediately apparent that you're in for something truly distinctive. The Cricket is distinguished by its innovative design, which makes it both durable and lightweight. It can be readily pulled by many 4-cylinder vehicles and compact SUVs, and it has enough space for two people and two children to sleep inside.
Travel trailers are an excellent option since they give the comfort of a camper while enabling you to preserve all of the advantages that come with owning a 4WD vehicle in good condition. Take your tiny house and detach it from your car after you've reached a good base camp, and you'll be ready to explore as far into the wilderness as your vehicle will allow you to go.
The Cricket promises to take you quite a distance away from the pavement. In addition to Cooper Discoverer 225/75 R16 tires on 16-inch alloy wheels and Timbren axle-less suspension offering 17 inches of ground clearance, the Overland variant is equipped with a number of optional features. This should be sufficient to allow you to stroll down most forest service or Bureau of Land Management roads in search of an adequate camping place for your team.
Additionally, the Cricket has intelligent design characteristics that make it a fantastic all-around travel trailer in addition to its capacity to withstand some bumps on the road. The pop-top retains a small and aerodynamic appearance for decreased drag when traveling long distances, and its dry weight (under 1,800 pounds) makes it a manageable tow for a broad range of vehicles, including SUVs and pickup trucks.
The ample ventilation guarantees that the Cricket will remain a suitable area for a nap even on the hottest of days, and the inside kitchen assures that you'll be able to prepare meals even if it rains.
What makes the TAXA Cricket worth all the cost?
A 5,000 BTU air conditioner is available as an option to keep you comfortable in any weather conditions. Because of the addition of a fifth window, the AC option in Cricket is now located in a more aerodynamic area.
Let's start with the basic structure of TAXA's Cricket. The chassis is made entirely of steel and powder-coated for strength and durability.
The Cricket is fitted with 15-inch alloy wheels and all-terrain tires, which are covered by a standard 5-year guarantee to carry you through even the most difficult terrain. Steel wheels with all-terrain tires are used as the spare tire on the vehicle's spare tire carrier.
The suspension system is a torsion axle, and electronic brakes are included as standard. They have built powder-coated steel gravel guards around the outside of the Cricket to keep it safe from the elements.
Once you've set up camp, the Taxa Cricket is equipped with quad stabilizer jacks, which will keep you nice and level until you've finished. The 2,000-pound tongue jack is an excellent fit for this recreational vehicle.
The Cricket's skeleton is made of laser-cut Kynar-painted aluminum composite panels, which provide strength, durability, and lightweight performance.
An unusual feature of the TAXA Cricket pop-up roof, which can be opened and closed with one hand. The pop-up roof is used for two primary tasks. It provides for additional cross ventilation while also increasing the amount of internal headroom available. The pop-up roof's hinge is composed of steel for long-lasting sturdiness, and the tent is made of recycled ripstop polyester for a greener environment. The tent is equipped with five mesh windows.
There is just one element that is similar to that of a pop-up tent, and that is the extended roof. In addition to these features, I would describe the Cricket as a tiny camping trailer.
Additionally, in addition to the roof being able to be extended to give additional cross ventilation, you have a rear hatch that allows for additional ventilation while also providing simple access to the rear of the camper. The 12-volt roof exhaust fan that is supplied is also a wonderful addition that will assist to keep the interior of the vehicle fresh.
Fresh and gray water capacity is limited in a camper of this size due to the limited space available. The 15-gallon fresh water tank and 16-gallon gray water tank that come with the unit are both adequate in size.
Additional amenities on the exterior of the Taxa Cricket include LED external lighting, an outdoor hot and cold shower, pre-wiring for solar, and a city water intake.
The Cricket is also solar-ready, making it simple to power when you're not connected to the grid.
The appearance and structural elements of the Cricket are spectacular, and the interior is just as impressive as the exterior. There is plenty of internal space for two people, and by adding the supplementary beds, you may accommodate up to two more youngsters.
The full bed offers under-bed storage that can be simply converted into a dinette for comfortable meals, card or board gameplay, or just relaxing.
Cooking facilities include a spacious kitchen with a two-burner stove and an adjacent covered sink area that can also be used for preparing food and cleaning up after yourself.
When it comes to storage, the Cricket doesn't provide a lot of options, but what it does provide is adaptable and really helpful. Three milk crates are used as the storage tower, which is fastened with a bungee rope when it is being transported. The boxes may be quickly and easily removed for loading and unloading purposes.
When compared to sleeping in a tent, sleeping in the Taxa Cricket is far more comfortable. You'll discover a comfortable full-size mattress that can accommodate two people. Additionally, there are 25 cubic feet of storage under the bed. What about the children's sleeping arrangements? It's not a problem; you can add the optional berths for them later. The berths are cot-like beds that are suspended from the Taxa's ceiling, and they accommodate two people.
When you look around the interior of the Cricket, you'll notice that it has LED internal illumination as well as handy 12V USB ports. Storage in the kitchen is accomplished through the use of milk crates as well as a storage tower constructed from Baltic-Birch plywood.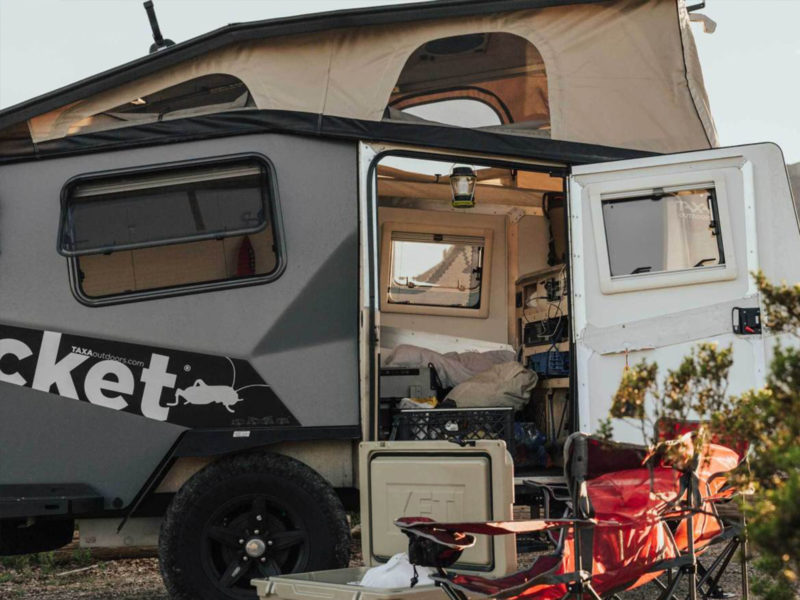 It has high-pressure laminate countertops and is equipped with a functional 2-burner stove with a hinged lid, in addition to a sink that is also hinged at the bottom.
Overall, the Cricket is a pretty competent camper with a lot of features. Those looking to travel off-road in a camper that can withstand difficult terrain will appreciate its one-of-a-kind design. The number of amenities available for this sort of camper is impressive, and the available option provides even more comfort.
The price, on the other hand, is something that some people find objectionable. A basic Cricket begins at $30,000, with the Overland Edition costing an additional $10,000. However, it's difficult to find another camper constructed for off-roading in a similar pricing range that has all of the amenities included in the Cricket at a comparable price point.
Despite the fact that the Cricket has faults, they are not necessarily due to production concerns. Some are the result of operator faults or dealer blunders.
In conclusion, if you have the financial means and want to do a lot of off-grid camping, Cricket would be the best choice for you.
Cricket Overland Edition
The Taxa Cricket is a robust camper in its basic configuration, but for those who wish to go out into terrain that requires a little extra ruggedness, Taxa offers the Overland Edition of the Cricket.
The Overland Edition has an axle-less trailer suspension, which is composed of progressive rubber sprints and urethane bushings, in addition to the standard suspension. A quieter, smoother ride is the consequence, and you also get 4 inches of elevation, which comes in helpful while driving in muddy or snowy conditions.
According to my opinion, the Lock n' Roll Hitch is one of the most useful aspects of the Cricket Overland accessory package. An articulating hitch with three axes of movement and 360 degrees of rotation, is a versatile piece of equipment. This hitch will provide excellent performance whether you are off-roading or driving on the highway.
If you pair the above-mentioned enhancements with subpar tires, they become completely ineffective. Taxa were adamant about not doing so, and the Cooper Discoverer AT3LT tires were chosen for the Overland. The AT3LT tires are all-terrain tires that may be used on and off-road. They perform admirably in a variety of soil conditions, including gravel and muck. They are even capable of performing effectively on mild snow.
Exclusive Features of the Cricket Overland Edition
Design without the use of axles
The Overland Edition's ride is quiet and smooth, thanks to progressive rubber springs and urethane bushings in the suspension. A Timbren 3500lbs Axle-Less trailer suspension with a 4′′ lift and a 4′′ lift lets you to go off road without the normal restrictions associated with a thru-axle suspension system.
Hitch with a Lock and Roll feature
360 degrees of rotation and three axes of movement are made possible by the articulating lock n' roll hitch. Using this on-road and off-road hitch, you will have the freedom that you would not have with a ball hitch.
225/75R16 All Terrain Tires
The LT 225/75R16 tire is intended for people who seek a tire that will give the robust durability necessary to keep up with their busy lives on a daily basis. This all-terrain tire, designed to handle dirt, gravel, mud, and the urban jungle, combines off-road capability with tolerable on-road comfort and year-round grip, especially in light snow.
Extraordinary Cricket Features
Towable and maneuverable
Cricket is a towable vehicle that is both lightweight and robust, and it can be towed by many four-cylinder automobiles. With a total length of only 15 feet and a dry weight of 1,753 pounds, you can tow it practically anywhere in any vehicle you already own or can borrow.
There is enough space to eat, sleep, and relax.
Cricket provides enough space for two people and up to two youngsters to sleep comfortably. This spacecraft's NASA-inspired design takes into consideration the choreography of living in space, and it has a complete bed with extensive under-bed storage that converts into a dinette for comfortable lounging in a safe interior environment.
Keep it cool
with an optional 5,000 BTU air conditioner that can keep you comfortable in any weather. A more aerodynamic placement for the air conditioning option in Cricket was provided by adding a fifth window to the vehicle.
Renovated Kitchen
To make meal preparation and cooking a breeze, we installed a wide kitchen counter with a two-burner stove and covered sink.
Convenient and roomy storage
In order to make loading and unloading a breeze, the storage tower includes three milk crates that serve as convenient drawers and are held in place by bungee cords when not in use.
Sleeping Accommodations up to Four People
Two adults may sleep comfortably on a full-size bed with access to under-bed storage space of 25 cubic feet. By including the alternative beds, there is enough sleeping space for two children.
Cross ventilation that is second to none
Five swing windows with shades and screens on the top tent side, as well as five mesh windows on the lower tent side, provide wide-open vistas and fresh breezes from all directions. It's the ideal environment for a place where the interiors and the outside come together.
Specifications
Exterior Length – 15′
Exterior Width – 6'7″
Exterior Height (closed) – 6'11"
Exterior Height (open) – 9′
Interior Width (max) – 5'3″
Interior Height (closed) – 4'2″
Interior Height (open) – 4'2″ to 6'10"
Bed Dimensions (max width) – 75″x59″
Kids Berth(s) – 60″x22″ (130 lbs)
Fresh Water Tank – 15 gal
Grey Water Tank – 16 gal
Tires – 235/75R15
Ground Clearance – 11″
Tongue Height – 20″
Tongue Length – 32″
Tongue Weight (depends on loading of trailer) – 245 lbs
Dry Weight (includes standard features only) – 1,753 lbs
GVWR – 2,700 lbs
GAWR – 3,500 lbs
Cargo Capacity – 900 lbs
Habitat Capacity – 2 Adults & 2 Kids (>5')
Aluminum Panels – Aluminum Alloy ASTM B 209
Square Footage – 63 sq ft
Additional Features
Hanging Kid's Berth Set (130 lb max capacity)
THULE® ProBar Evo 175 Adjustable Roof Load Bars
Soft Goods Package: THULE®/TEPUI® 6ft Awning, Mesh Screen for Entry Door, Portable Shower Tent
Portable Toilet
5000 BTU Driver-Side Window Air Conditioner
Exterior of the Cricket Camper
The Cricket Camper appears to be something out of a Tim Burton film when viewed from the outside at night. The way the super-luminous LED porch light shines through the orange pop-top, or the uncanny valley angles that defy visual convention, may be the reason why I like it. In any case, it leaves an indelible impact.
Of course, while you're living off the grid, you'll need a pop-top to keep the rain out. To properly relax in the great outdoors, you need to be able to stand up straight, and this is one of the simplest and most inexpensive ways to achieve that goal. It also provides improved ventilation, which helps to keep your camper feeling fresh and clean. Furthermore, because to the additional space offered by the pop-top, the Cricket can comfortably accommodate a couple of adults and a pair of children. That's what we call a fair bargain for having a Dutch appearance!
The trailer itself is constructed of Kynar-painted and UV-treated aluminum panels. With a laser-cut frame, Cricket can assure that everything goes together more tightly than with a jigsaw puzzle. There are tinted windows for privacy, as well as tempered glass for added strength. Rounding out the package is a 15-inch all-terrain camper tire mounted on a torsion axle suspension, which is capable of handling even the most difficult terrain.
If you work up a sweat on the road, you may take a refreshing shower in the camper's outside shower before tea time. So you won't have to worry about running out of fresh water too fast (there are two 15-gallon fresh water tanks that make a matched pair with a comparable grey water tank). Additionally, with two 20-pound liquid propane tanks, you may prepare meals and use hot water just as you would at home.
Interior of the Cricket Camper
Many of the expanding trailer models that are evaluated received low marks for having a shoddy interior. Even if the Cricket Camper is a touch uninspiring in appearance, it is a completely practical living area that comes equipped with everything you need for an off-grid journey.
The Cricket Camper may appear to be a little on the plain side from the outside, but as you open the door and step inside, you will find that it is a fully functional living area with everything you need for your off grid journey. There's also a countertop made of marine grade birch wood, which would be more than capable of withstanding my intensive food preparation practices. And if you happen to spill something on the vinyl floor, it won't take long for it to be cleaned up.
What else could there possibly be in here? You may, however, make use of a multi-speed fan to allow steam to escape while allowing fresh air to enter. The camper is also equipped with a specifically built hot air and water system that keeps you toasty while also washing your dishes. In addition to a stove and sink combination, you have the option of include a fridge/freezer and a toilet in your Cricket Camper construction if you so want.
But what if you just want to sit back and take it all in from a distance? Four swing windows open to bring in fresh air while also providing a comfortable place to relax and watch the world go by while holding a cup of tea in your hand. They are each equipped with a shade that can be drawn when you wish to sleep in one of them. Five mesh windows on the tent side provide a pleasant air as well as spectacular views from every direction.
The 32′′ x 20′′ picture window provides a stunning view from which you may draw inspiration for your next novel, painting, or idle daydream while you sit and relax.
How much does the Cricket Camping Trailer cost?
TAXA Cricket starts at $33,300
TAXA Cricket Overload Edition starts at $ 36,900
FAQs
Q. How heavy is the cricket trailer?
A. With a dry weight of 1,753 lbs, you can tow it almost anywhere, in whatever vehicle you already drive.
Q. What does the cricket camper look like?
A. The Cricket Trailer is the result of combining NASA engineering with the design of camping trailers. This unusually shaped trailer is intended to be hauled by a variety of vehicles and to provide you with just what you want without the extra you do not require.